How do you like your tea? Whether it's sweet or bitter, strong or milky, part of a gathering or a solitary morning routine, tea is everywhere. With over a thousand varieties, tea is the second-most popular drink in the world, next to water. Its longstanding properties and benefits made it a vital crop to control in a time of trade and colonialism. This is the story of how tea came to Pakistan from China, and how tea plantations began in the Subcontinent.
There are two different legends of tea's origins, but they both begin in China. The first takes place around 2700 BC, when Emperor Shen Nung found that leaves had fallen into his pot of boiling water. The pleasant smell intrigued him and he took a sip, feeling the delicious liquid course through his body. He named this brew "ch'a," or "to investigate", as he felt the tea investigate his body. Nung, also known as the Father of Tea, urged his people to cultivate and reap the rewards of this new invention.
The second story tells of Indian Prince Bodhi-Dharma, the founder of Zen Buddhism. He traveled to China to preach Buddhism in the year 520 BC, and vowed to meditate for nine years without sleep. However, very close to the end of his promise, he fell asleep. Upset, he cut off his eyelids, and the tea leaves began to grow on the same spot as a gift for his patience. Since then, monks used tea to keep themselves awake during long hours of meditation.
Both these stories point to two important features of tea: its warm, immediately healing taste, and its ability to keep one awake. The Camellia Sinensis (the plant from which all tea is made) grows best in hotter climates in sunshine, cool nights and plenty of rainfall. Initially, tea was drunk as bitter but simple green tea.
Originally, tea was used as a medicine, and it took a few centuries for tea to become a beverage. The Tang Dynasty (618 AD – 906 AD) marked the rise in tea consumption, with recorded taxes placed on the plant. And during the Ming Dynasty (1368 – 1644 AD), Chinese farmers began to roast or ferment tea leaves, so that they could be stored for longer, and traded with other empires. This is what we know now as Black Tea, although the Chinese traditionally still drink green tea.
While there have been recorded instances of early tea trade, it wasn't until the 17th Century that Europeans took notice of it. Arab traders from the 9th Century have recorded instances of boiling bitter leaves in water, and Marco Polo talks about drinking tea in his travels to the East. Initially, it was the Portuguese who traded with China, followed by the Dutch in 1610; Russians had a steady supply of tea via the Silk Route trades.
But by the time the phenomena of tea reached England, it had become a popular exotic drink of European elites in an age of exploration. In 1700, The British East India Company (EIC) was set to monopolize tea trade with China.
The way in which tea came to India is closely linked to British colonialism and the economic ambitions of the British. But since China was still dominant in tea production, the EIC looked to their colonies to produce rival market, smuggling tea seeds to India for testing. While none of the Chinese tea took root, the British were surprised to find Camellia Sinensis growing in Assam in 1823; Indigenous Indians would occasionally use tea in cooking or medicine, but not as tea. With the EIC's help Dr. Bruce and Charles Campbell cultivated plants weighing over a million pounds in Assam and Darjeeling in Bengal. To this day, tea from Assam and Darjeeling are held in high regard amongst tea lovers.
Pakistan inherited its tea culture from the British, and tea often came from Sylhet in East Pakistan (now Bangladesh) until 1971. Tea time is a regular phenomenon in the Pakistani household, and large cities are bustling with tea shops, where people sit together, maybe have a snack or two, and discuss both the mundane and the intellectual.
Popular favorites include: spiced tea, Doodh Patti which is boiled leaves and milk without water, Kehwa (green tea). Kashmiri Chai is made when a small amount of baking soda reacts to pellet-like tea leaves, producing a pink tea that goes with either sugar or salt, topped with pistachio and almonds. Tea in the northern areas are salty and buttery.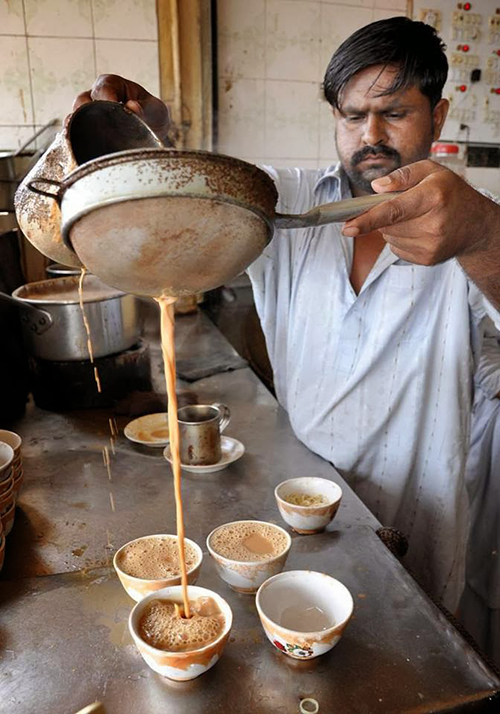 According to the Pakistan Bureau of Statistics, Pakistan is the third largest importer of tea, importing 12,804 tons for Rs. 4,057 billion in 2017. Most of the tea is imported from Kenya, and local plantations can be found in the North West, in the Khyber Pakhtunkhwa and Azad Jammu and Kashmir Belt.
China has remained one of the largest tea producers in the world, and tea plantations have been rapidly expanding. In 2015, Chinese consumed almost 626 thousand metric tons of tea, and that number will only increase in the coming years. Tea is taken very seriously in Chinese culture, so much so that there is a tea museum in Zhangzhou, Fujian province dedicated to processing tea and preserving Chinese tea culture and tea ware.
This is by no means an exhaustive history of the spread and development of tea in Asia. But this simple plant from China has been used as a means of power and wealth in a world that was rapidly changing. Entire cultures and rituals have developed in different parts of the world around the act of sitting to drink tea, and the tradition of tea has been valued across different historical eras. Now, we cannot imagine a world without a good cup of tea.