As parents, discussing sensitive topics like periods with our children can feel challenging. However, it is crucial to have open and informative conversations about menstruation to empower and educate the children. "Are you worried about how to talk to your child about menstruation?" Talking to your child about sensitive topics like periods can be uncomfortable for both of you at first, but providing them with reliable information can help them understand their bodies and make good health decisions,
When Should I Talk To My Kids About Periods?
Talking to your children about periods should not be limited to a single age group. It should be spread out over several conversations to gradually increase your child's understanding. As your child grows older, you can provide more information.
Most children can understand the basics of periods by the time they are 6 or 7 years old. If your child is not asking questions, bring it up in natural moments such as
· When child ask about puberty
· If your child asks where babies come from
· When you are buying pads or tampons,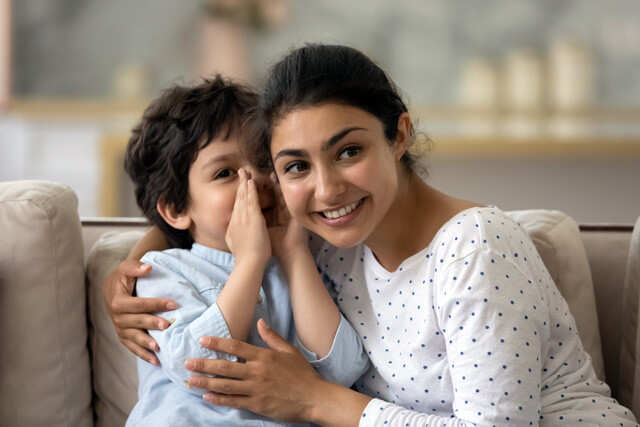 What Should I Talk About?
Deciding what to talk about depends on your child's age and level of development.
· Ask her whether she or he has heard about puberty and find out what they know about it. Correct them if they have wrong information.
· Share your own experience, make them feel comfortable to open up.
· Invite questions and answer them clearly.
· Direct them to reliable books or websites if they are comfortable reading rather than talking.
· For girl children, explain what happens during periods, how long it lasts, Its symptoms, signs of PMS and choosing between pads and tampons.
When Should I Call The Doctor About My Child's Periods?
If your daughter is 15 years old and has not yet experienced her first period, or if she started developing breasts more than three years ago and has not had her periods, it is recommended to consult a doctor. Additionally, if your daughter has had her first period more than two years ago but her menstrual cycle does not occur regularly every 3-6 weeks, or if she experiences severe cramps that are not relieved by painkillers and has very heavy bleeding, it is important to seek medical attention.
Remember, every child is unique, you should modify your strategy according to their maturity level and specific needs. You can give your child the assurance and understanding they need to successfully navigate this natural process by having honest and open discussions with them.