Committing to doing roles that will make a difference and empower women to pursue their dreams, Arisha Razi Khan is an actress set out to make her mark with her impeccable work style and clear vision while not compromising her personal endeavours in the process.
Social Diary spoke to this vibrant starlet to know more on her professional pursuits and personal choices as well.
SD: What was it like growing up? Share a little about your family and childhood?
Arisha: I have grown up in a purely family oriented environment, from both maternal and parental backgrounds. I am proud to have been raised in such a way which has developed my personality to value family above everything else. My childhood was moderate in terms of fun, family and friends. I used to wait for the weekends to come so as to spend time at amusement parks, be at family dinners and visit the grandparents or relatives. I had a flavor of everything but not too much of it. This kept me engaged and happy because weekdays were occupied with a disciplined routine.
SD: When was the first time you realized you wanted to go into dramas?
Arisha: I had never ever thought to become an actress or to work in the media industry because I had seen doctors, bankers and businessmen around me. That was the flair I held onto and knew better.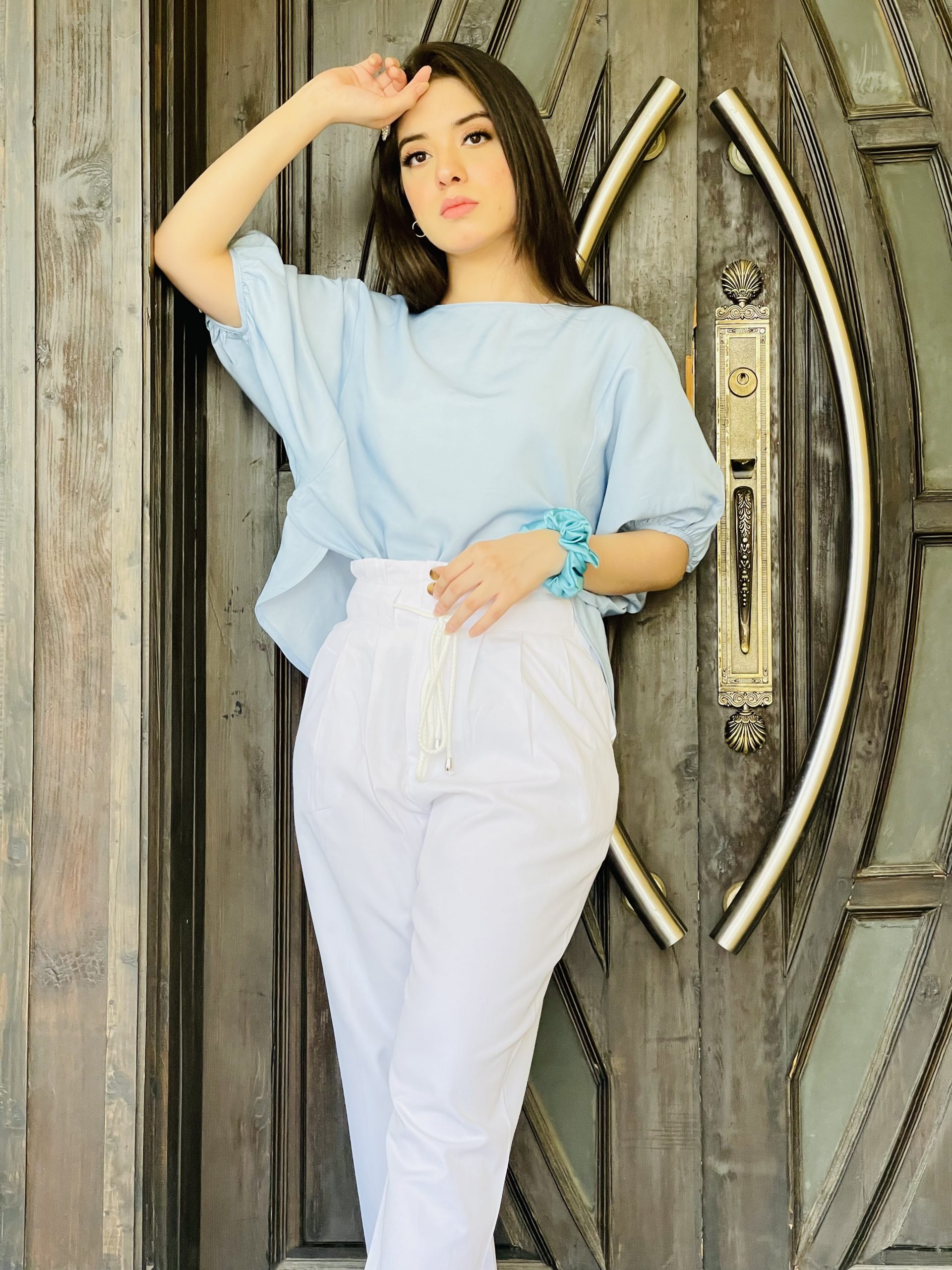 SD: How did you venture into this journey?
Arisha: This was purely fate how me and my sister ended up in the media industry. It was just an attendance at a family wedding when an advertising agency representative came to my father and gave him his card, saying your daughters may have what it takes to make it in the media and invited us for an audition. I had done my first commercial for a biscuits brand and it just went on from there and there was no looking back.

SD: Are you content with the drama industry or do you feel something can be done to give it a major boost?
Arisha: Not every drama of this time is well-versed with qualitative content. Just to keep the audience engaged or intact, the quantity continues to increase and the quality is getting compromised in the process. However there are a few dramas that are very well-versed and deserve to be appreciated.

SD: Which platform is better for you to showcase your skills- films or dramas?
Arisha: Films give an opportunity to showcase your acting skills on the big screen but dramas have more reach when it comes to being relatable to many households in the country. In our country especially, television is more accessible as compared to cinemas.
SD: What kind of roles attract you?
Arisha: I always wanted to be a lead character in a woman-centric movie that empowers women of this country in a positive attitude. I want to represent the common woman who struggles for her dream and achieves it in the end, like that of a biopic of a successful woman. Success stories motivate people to at least try and serve as major life lessons.

SD: You also opened your own clothing brand- how did that come about?
Arisha: My clothing brand is basically my mother's art and her creativity. She has always designed my dresses and people just loved them. So we came up with the idea that she deserves to have her own identity and reflects her skills to others. Social platforms are great as they give the chance to deserving people to use their skills and have something of their own.
SD: Do you find it hard to juggle everything together?
Arisha: It's not easy to balance everything in your life but we need to prioritize sometimes which part needs more attention. My mother and family support helps me to figure out a good work-life balance.

SD: What keeps you motivated to give your 100%?
Arisha: 100% is just a numeric figure. We can try to give our best but there is always the need for improvement because we are not perfect naturally. It's our parents, our family, friends and people around us and their roles which help us to be perfect in life.
IN A GLANCE
The Thing You are Grateful for in the Pandemic?
Good health of my family.
Your most prized possession?
Memories with my loved ones
The best thing about being a content creator?
Establish your own voice
The one thing that is a mood killer?
Wake up early for shoots
Three things you have with you all the time?
Cell phone, perfume and my wallet
Your life's motto?
That which is hateful to you, do not do to others
Morning Person or Late Nights Enthusiast?
Not a morning person at all. I do most of my work (apart from the shoot) at night
Desi Wear or Western?
I like the western more but most of the time I have to wear eastern
Deepest Fear?
Losing my family
Biggest Regret?
Not listening to my parents while making friends
An Inspiring Role Model?
My Parents
Biggest Strength?
Flexibility, trustworthiness, originality
Someone you wish to meet?
Fawad Khan

Top 3 things on your bucket list
Scuba diving, hot air balloon ride, sleeping under the stars and watching aurora lights.
The best thing about your work?
You get money, fame, traveling, and love of the people- all under one roof. Also being an actor never gets boring, you can play different roles
The worst thing about your work?
No private life anymore. You will get criticized for anything
Your favorite actor?
Mahira Khan and Yumna Zaidi.
What people don't know about you?
I'm shy
The craziest rumor you heard about yourself?
My net worth is 9crore
Your dream destination?
Maldives, Bora Bora, Santorini, Paris, and Disney World
If you weren't an actor, you would have been a …
Entrepreneur